To:

Dustin Maxwell, Landlord
Stand with Ms. Juliet, a Decatur Resident Fighting For Her Home of 27 Years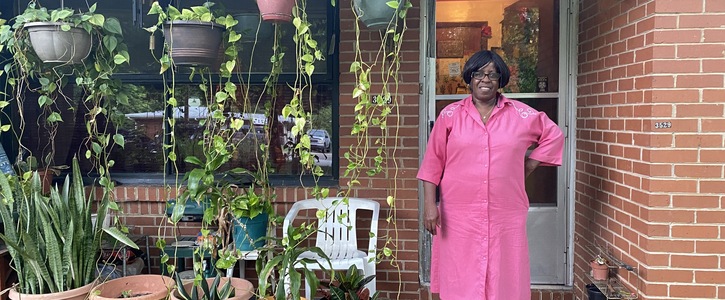 Sign this petition to demand that 1) Dustin Maxwell drop the eviction case against Ms. Juliet and sell her the house as her previously agreed to do.
Why is this important?
CAMPAIGN UPDATE
After agreeing to sell Ms. Juliet her home, Dustin Maxwell is now going back on his word and seeking a writ of possession. Ms. Juliet has secured financing and a loan. All Dustin has to do is sign the deal. Instead, he is taking her case to superior court to get a writ of possession to evict Ms. Juliet. His behavior is despicable.
More background: In late November 2021, HJL was able to negotiate a deal with Dustin to sell the home to Ms. Juliet. We agreed to a price and that the financing would need to be in place by Feb 1st. We asked to have until March but he wouldn't budge.
Getting financing together was a lot of work, the Holidays and Omicron variant of Covid19 made everything slower. We didn't have the money we really needed until the first few days of February. We had our purchasing agreement ready and sent over for Dustin to sign on February 18th. He never signed or responded, and neither did his lawyer. We feared the worst but hoped for the best.
On April 11 Dustin came to the zoom court meeting agitated and said he was tired of dealing with Ms. Juliet and that he wanted a writ of possession because we didn't have everything by Feb 1st. Our lawyer did great, Judge Williams also was on our side, encouraging Dustin to take the money and explained that financing takes time. Dustin didn't budge.
Juliet Brown's eviction case is officially moving to the GA Superior Court after the DeKalb County Magistrate Court judge refused to grant a writ of possession to the landlord. The landlord has been unresponsive for the past month, even after he was presented with a finalized Purchase Agreement with the agreed-upon terms. The Superior Court extension will delay the process for a few more months.
Original petition:
Ms. Juliet, a Black elder of Decatur, is being forced out of her home so her landlord can sell it for a profit. Ms. Juliet is a beloved community member and has worked at a local public school serving food for 15 years. In the 27 years of living in her home, Ms. Juliet has paid what the house is worth with her rent at least 2 times over. Now her neighborhood is gentrifying, and her landlord refuses to renew the lease so he can make a profit. She is a single, low-income widow with chronic health issues, and she does not have the funds to move. Ms. Juliet does not have anywhere else to go.
Her landlord, Dustin, promised her when he bought the home 3 years ago that he wanted her to stay. Now, he's going back on his word and trying to kick her out onto the street just to make a profit. Dustin has failed to do basic maintenance at Ms Juliet's home, leaving her without heat for 3 months in the winter. Dustin is a big time investor with over 400 rental units. He has no right to profit from kicking Ms Juliet out of her house. We must hold him and his corporation, Jetsetter Capital, accountable to their violence.